ADL IDEAS LIBRARY
INVENTIONS
Great Inventors always have a list of inventions they would like to see happen. Here are a few. Help yourself but if you commercialize one of them, please send us a couple of units and a thank-you.
TOY COMPANIES: Raid our
Toys! Inventions!
page.

THIS PAGE ALWAYS UNDER CONSTRUCTION
If you really love one of these ideas and would like us to develop it for your company, we can take it from idea to manufacture and create as cost effective a product as you can get.

HOW IDIOTS CAN RUN A BACKHOE
NITESIGNSTM HUBCAPS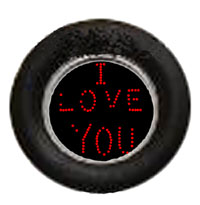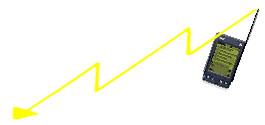 ADL has demonstrated good images can be made by sweeping a row of LEDs across the field of view with the correct modulation. Several commercial products like the nite writer toy and pendulum clocks that sweep out a digital display of the time with a row of LEDs on the pendulum have been introduced.
We propose a hubcap incorporating a row of LEDs, a gravity switch to synchronize the display to wheel rotation and a radio receiver to update the message. Any message written into Palm Pilot can be relayed to the hubcap and displayed at night to passing cars or folks on the sidewalk.
THE RECORD LIBRARY (Proposed in 1998, probably available this Christmas)

CDs, tapes, records, all the music media you keep at home are improved holdovers from the days of Thomas Edison. The density of modern hard disks now allows a whole record library worth of music to be kept in your stereo. No scratches, no handling, no getting lost. Save the media for the car. Want the latest music without going shopping? - the Internet now lets it be downloaded via MP3 compression. The record industry is now concentrating on how to get paid for the music without necessarily selling you a piece of plastic in a wrapper.
ADL proposes a combination receiver/record library. It looks like a receiver except it has a display screen for looking for records and songs that you have transferred from your CD player, record player or tape deck or that you have bought over the Internet. It works as simply as playing a CD from a really well organized library without hassling with where to put the case, loading it, etc. You just go down the list of what you own (or search by name), select the record and hit play.
UNDERWATER DUST BUSTERtm
Dust Buster is a trademark of Black and Decker. They only work in air. I want one that I can use in the hot tub to suck up little messes. It needs to have a different impeller and a few seals for the batteries and motor shaft but should work great. Black and Decker was too big to listen to outside ideas.
SUNTAN METER
This gadget can be made cheap enough to be packed on a tube of sunscreen for an extra buck. It uses a sensor and optical filter to match the sun damage spectrum and a simple conversion and integration program to beep when a normal dose of sun has been received. So just lay the sensor in the sun next to you and flip when it goes off. Different settings for different skin types can be entered. The really neat part is correcting for wearing sunscreen - just rub the sensor with the same sunscreen you are putting on. Cost on this item can be well below $1.00.


GLASSES WITH THE TIME BUILT IN
For anyone who wears glasses or sunglasses and needs to know the time. Military units could really use this. We mount a miniature lens to the glasses and suspend a tiny LCD display in front. What you see is a spot in the edge of your visual field with the time readable.


TIMED LIGHT SWITCH
Does your family leave the garage or closet light on all the time? Replace the switch with this switch that looks the same and the light will go off in half an hour
THREE WAY LAMPS
For bedrooms where the wall switch turns on an outlet by the bed, replace the switch and the lamp socket with this invention and you can turn the lamp on or off from either the wall switch or the lamp! You can't do that now - if the wall switch is off there is no way to turn the lamp on without getting out of bed!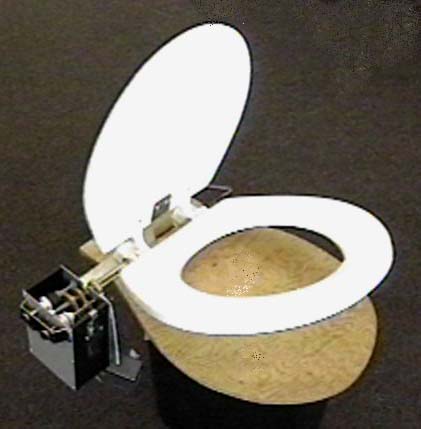 A REALLY GREAT AUTOMATIC TOILET SEAT!
We foolishly invented the answer to the giant controversy of whether to leave the seat up or down on the toilet. An ultrasonic sensor looks at which way the feet are pointed in front of the toilet and raises the lid if anyone is there, raises the seat when feet are pointed toward the toilet and lowers everything when you walk away so the dog doesn't use it for a drinking bowl. Automatic flush can also be incorporated. It is powered by batteries which should last a year in average use. Unfortunately our marketing experts told us that nobody would pay $89 for a toilet seat no matter what it did!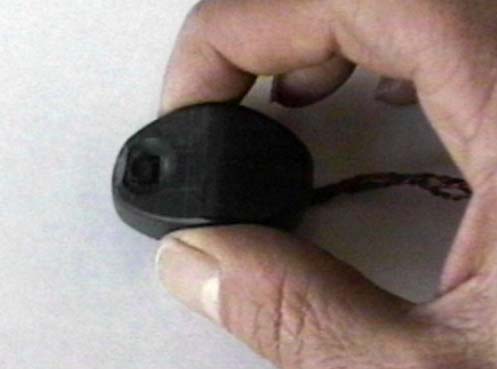 WHAT MIGHT BE THE WORLDS SMALLEST MOUSE
Some time ago, Ron made this really tiny optical mouse using the moire effect with a photographic screen ensuring quadrature in each axis. It has to run on a special pad printed with criss-cross lines at 1000 lines/inch. As a result, it has many times the resolution of a roller mouse so you only have to move it half an inch to go across the screen. E-mail us for details.
A TELEPHONE THAT KNOWS ALL THE NEW AREA CODES
Make the window in a Caller ID phone do double duty-every time you put in a long distance number (1 first), the text line will tell you where the area code is.It will also know if it has been changed and will tell you AND dial the correct area code without making you (that would be like the lifeguard telling you to go back and walk around the pool!).To stay current, every two months it calls up the mother ship and downloads a new area code table.Should add about $5 to the cost of a Caller ID phone.
SPACE STATION LIVING SPACE (I just found out this one has been under consideration by NASA for about four years and is the basis for several modules for proposed Moon bases)
To build pretty big rooms at the space station at lowest lift cost per unit volume, use big balloons attached to central corridors like a bunch of grapes. The balloon should be covered with a kevlar mesh that will both contain the pressure forces and keep micrometeorites from penetrating. The "give" of such a flexible structure would help a lot in energy absorption for impacts. Mount all the fixed furniture or equipment or planter boxes to a central stem shipped up from earth and surround it with a big enough balloon to get rid of the claustrophobia of normal space quarters, or with room enough to grow some plants.
IMPROVED GEO-SYNCHRONOUS ORBIT
THIS IDEA FINALLY HAS TAKEN OFF. THE NEW SATELLITE CAR RADIO BROADCASTING SERVICE FROM SIRIUS USES THIS SYSTEM.
Face it, the geo-synchronous satellite concept has three fundamental limitations. 1. There are only so many "slots" that can be differentiated by earth station antenna directionality. It's getting totally filled. 2. The geo-synchronous orbit is pretty low in the sky at most population centers in North America and Europe. This means the satellite is quite a ways away from you so it takes lots of power to reach it and for it to reach you. 3. The geo-synchronous orbit is 22,000 miles out - a long ways. The invention: Orbit four satellites in an orbit the same diameter as geo-synchronous but tilted in a plane 50-60 degrees off of the equator. Do the tilt of satellite #1s orbit so the high point is over New York at 8AM, satellite 2 is at 2PM, satellite 3 is at 8pm, and satellite 4 is at 2AM. Obviously you send up satellite 3 first to broadcast at prime time! You then run each satellite only three hours before and three hours after peak.
Here's the plot of the longitude of your virtual satellite: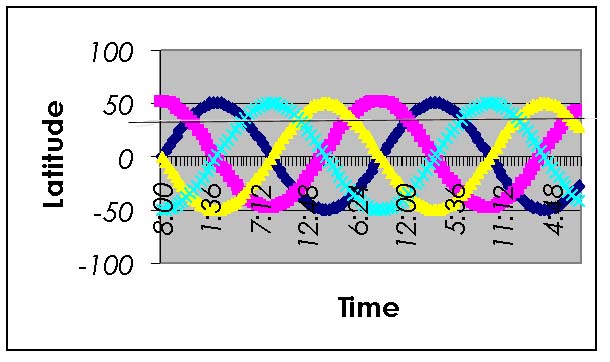 You only turn on the parts above the black line at about 40 degrees north (unless you want to also broadcast to southern Argentina for free). So what you get is a virtual geosynchronous satellite that is nearly overhead. Besides not having to negotiate for an equatorial parking spot, your satellite is about time and a half as strong for the same power input. Also a dish is a whole lot easier to lay flat. A fresnel form could make it into a totally unobtrusive mat.
Some similar ideas have been explored in Russia with the Molynia system for overlapping elliptical orbits to take care of high latitude satellite reception. Also I have heard of the Elipso system but have not found a full explanation
LOTS MORE COMING! WATCH THIS SPOT OCCASIONALLY!

Click here to return to our main page.
Copyright © 2001-2004 ADL
Most recent revision April, 2004